Anzac Day 2016
H.E. Mr Richard Mann, High Commissioner of New Zealand and H.E. Mr Adam McCarthy, High Commissioner of Australia hosted an Anzac Day commemorative dawn service on Monday 25th April 2016 at Freedom Park in Pretoria.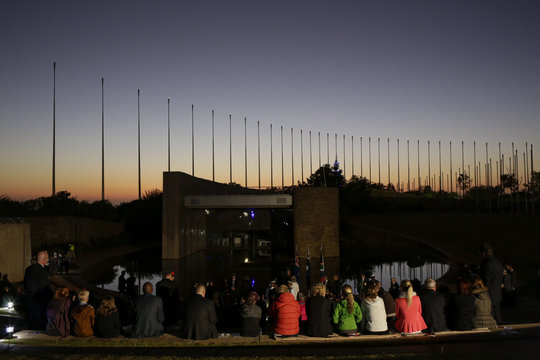 Dawn breaks over Freedom Park at the Anzac Day service. Credit: Cornell Tukiri
Following the service, a traditional 'gun-fire breakfast' was hosted at the New Zealand High Commissioner's residence.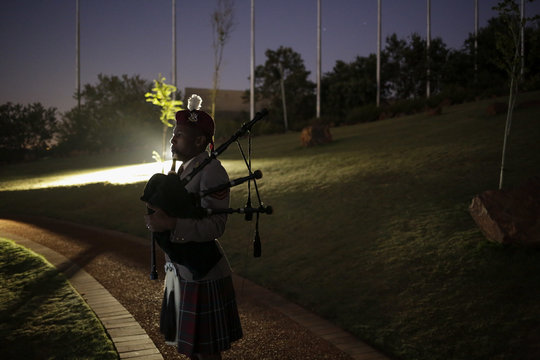 Bag-piper marking the commencement of the Dawn Service. Credit: Cornell Tukiri
Anzac Day is one of the most important national occasions for Australia and New Zealand and marks the anniversary of the original Anzac forces' landing at Gallipoli in Turkey on 25 April 1915 during the First World War. Today it is a national day of remembrance for all Australians and New Zealanders who served and died in war and on operational service.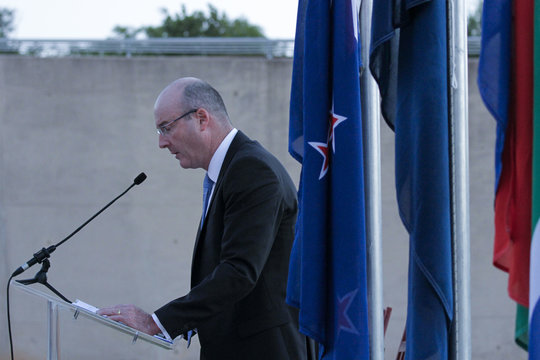 H.E. Adam McCarthy, addressing guests at the Dawn Service. Credit: Cornell Tukiri
***************************************************
Straight to the pool room: Australia Day movie screening of The Castle in Pretoria
The Australian High Commission in Pretoria broke with protocol by hosting an exclusive outdoor movie screening of The Castle to mark Australia Day 2016.
Around 230 friends of the High Commission drawn from government, business, think-tanks, civil society and the diplomatic corps arrived for the screening with camping chairs in hand, ready to enjoy the Aussie comedy classic on a 10m high blow-up screen on the back lawn of the Residence – "location, location, location".
Guests were treated to a good old-fashioned sausage sizzle and lamb-on-a-spit, along with Australian wines, lamingtons, Tim-Tams and popcorn, not to mention a rousing rendition of Waltzing Matilda by High Commission staff. Casual and comfortable was very much "the vibe of the thing".
Prior to the event, we asked several Australian Volunteers for International Development in South Africa and Botswana to send us clips about their placements filmed on their mobile phones, which we had edited into a short video to show prior to the main feature highlighting the interesting and valuable work they do in our region.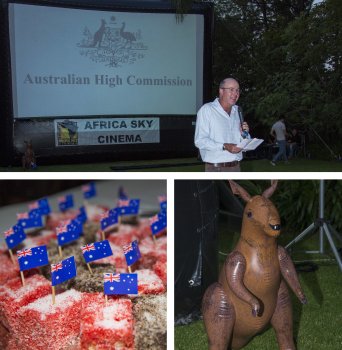 We also screened Tourism Australia's current campaign adverts – 'Aboriginal Australia: our country is waiting for you' and 'Restaurant Australia' before the movie.
Thankfully Pretoria's summer storms stayed away and superb weather topped off an all-round great evening. We've had many top nights, "but this was the most top".
******************************************************
Gareth Evans' contribution to anti-apartheid struggle recognised
On 8 December 2015, President Jacob Zuma honoured Professor the Hon Gareth Evans AC QC, Australia's former Minister of Foreign Affairs, with an Order of the Companions of O.R. Tambo (Silver) award at a special ceremony in Pretoria. The award was in recognition of Professor Evans' significant contribution to the struggle against apartheid.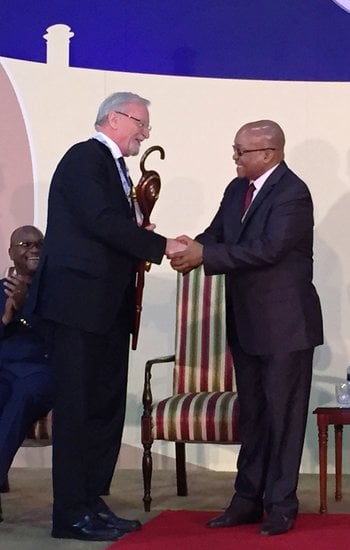 Gareth Evans accepting the Order of the Companions of OR Tambo from President Jacob Zuma
Credits: AHC-Pretoria
Professor Evans was a prominent and vocal international champion of the anti-apartheid movement throughout the 1980s and 1990s, during which time he played an important role in pursuing financial and economic sanctions which proved crucial in breaking the back of the apartheid regime. He was one of the first foreign government representatives to meet former South Africa President Nelson Mandela in Lusaka, just days after Mr Mandela's famous 'walk to freedom' and later visited South Africa during its transition period, thereby reinforcing Australia's support for a free and democratic South Africa.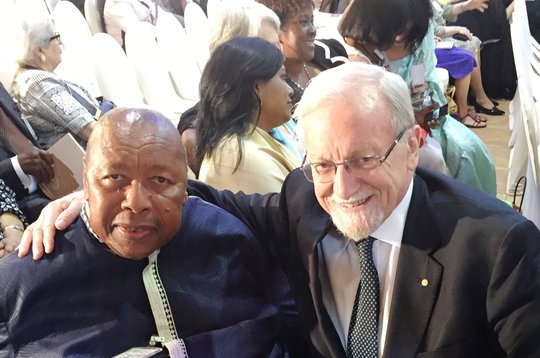 Gareth Evans with Ambassador Sonwado Eddie Funde. Credits: AHC-Pretoria
On his four day visit and accompanied by Australia's High Commissioner to South Africa, HE Mr Adam McCarthy, Professor Evans met with several eminent South Africans including Deputy President Cyril Ramaphosa, Noble Laureates former President FW de Klerk and Archbishop Emeritus Desmond Tutu, as well as good friend and colleague, Ambassador Sonwabo Eddie Funde, the ANC's Chief Representative in Australia during the apartheid years.
Gareth Evans, High Commissioner Adam McCarthy with Archbishop Emeritus desmond Tutu and Mrs Leah Tutu in Cape Town.
Credits: AHC-Pretoria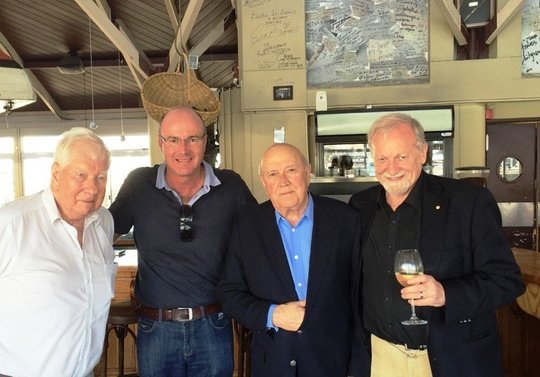 Professor Evans and high Commissioner Adam McCarthy with Nobel Laureate F.W. De Klerk in Cape Town.
Credits: AHC-Pretoria
Professor Evans also delivered key note addresses at the South African Institute for International Affairs in both Johannesburg and Cape Town, on the topic "Responsibility to Protect: Ten Years On".
**********************************************************
STS Young Endeavour's visit to Cape Town
The Royal Australian Navy's Sail Training Ship Young Endeavour made a memorable visit to Cape Town, arriving on the 18th November 2015. This was the final port of call of the ship's 12-month circumnavigation of the globe which included participation at the ANZAC Centenary commemorative events in Gallipoli, Turkey.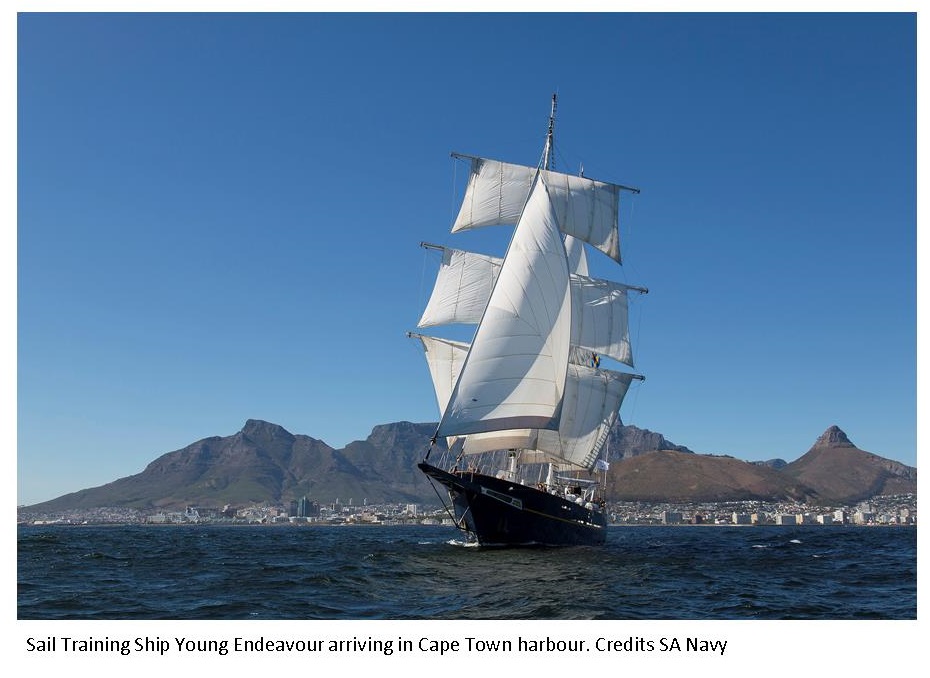 During the week long port stop, the ship's crew participated in community engagement events organised by the High Commission in Pretoria, including a cricket clinic in Khayelitsha
with Direct Aid Program Partner, the Cricket School of Excellence, and the painting of a recreation facility for at-risk children at Durbanville Children's House. The crew also had the opportunity to experience local culture and cuisine before embarking on their return journey to Fremantle, Western Australia.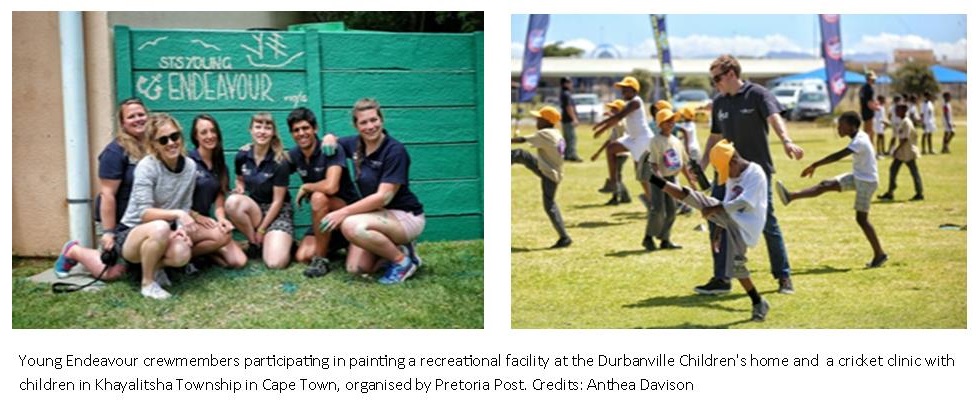 The ship played host to a sunset cocktail reception attended by members of the South African Navy, maritime and sailing institutions.
The Cape Town stop was also an opportunity for Australia-South Africa naval engagement, with South African naval midshipmen from a nearby training facility able to visit the ship. The Young Endeavour also played host to a sunset cocktail reception on arrival attended by members of the South African Navy, maritime and sailing institutions.
*************************************************
4 November 2015
Launch of ACIAR-South Africa Beef Farmers Project
HE Mr Adam McCarthy launched a collaborative research project funded by the Australian Centre for International Agricultural Research (ACIAR) and the South African Government on 4 November 2015 at the Agricultural Research Council's (ARC) Meat Science Campus near Pretoria. The project involves research and capacity building on animal nutrition, grassland stewardship, genetics and the role of farmers, meat science, cooperatives and value chains, with the aim of establishing whether and how small-scale cattle farmers can earn a profit and sell their product to high value supermarkets in South Africa.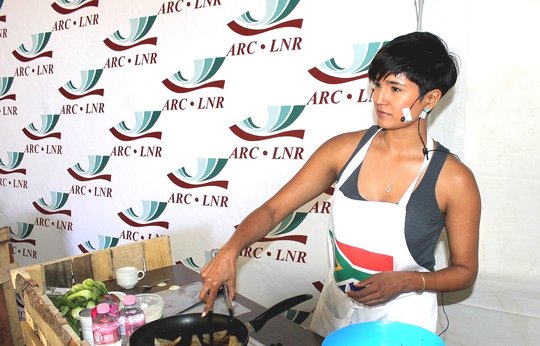 South African chef Kamini Pather preparing her grain-fed beef dish. Credits: ARC/LandbouTV
The launch included five displays of the different facets of the research project, as well as an interactive cooking demonstration by food blogger and Australian Masterchef contestant (season 2014) Renae Smith and host of Girl Eat World and South African Masterchef winner (season 2) Kamini Pather.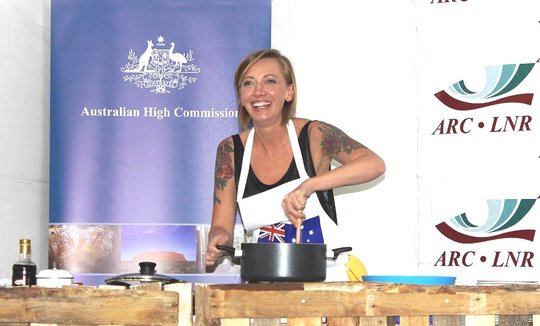 Australian chef Renae Smith preparing her grain-fed beef dish at the launch. Credits: ARC/LandbouTV
Youtube video of the cooking demonstration: https://youtu.be/Hq3eFZoPN8U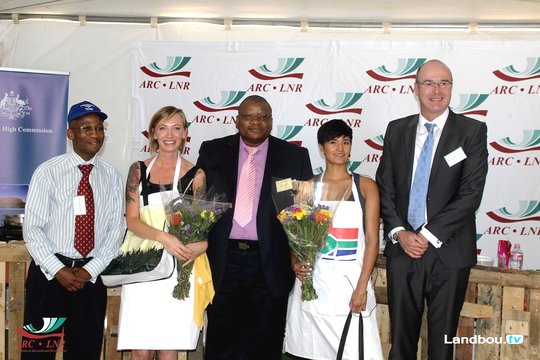 Adam McCarthy with Dr Moephuli (CEO of ARC), Mr Ramasodi(a/g DDG of DAFF), Renae Smith and Kamini Pather.
Photo credits: ARC/LandbouTV
Further info on the project: http://aciar.gov.au/project/lps/1999/036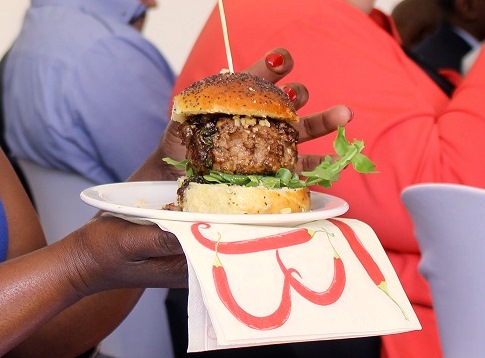 ACIAR-ARC organic grass-fed beef. Credits: ARC/LandbouTV
********************
23 September 2015
Australian High Commission in Pretoria celebrates South Africa's Heritage Day (24th September 2015)
The Australian High Commission in Pretoria commemorated Heritage Month and Heritage Day on the 24th September 2015 with staff dressed up in traditional wear from all over the world.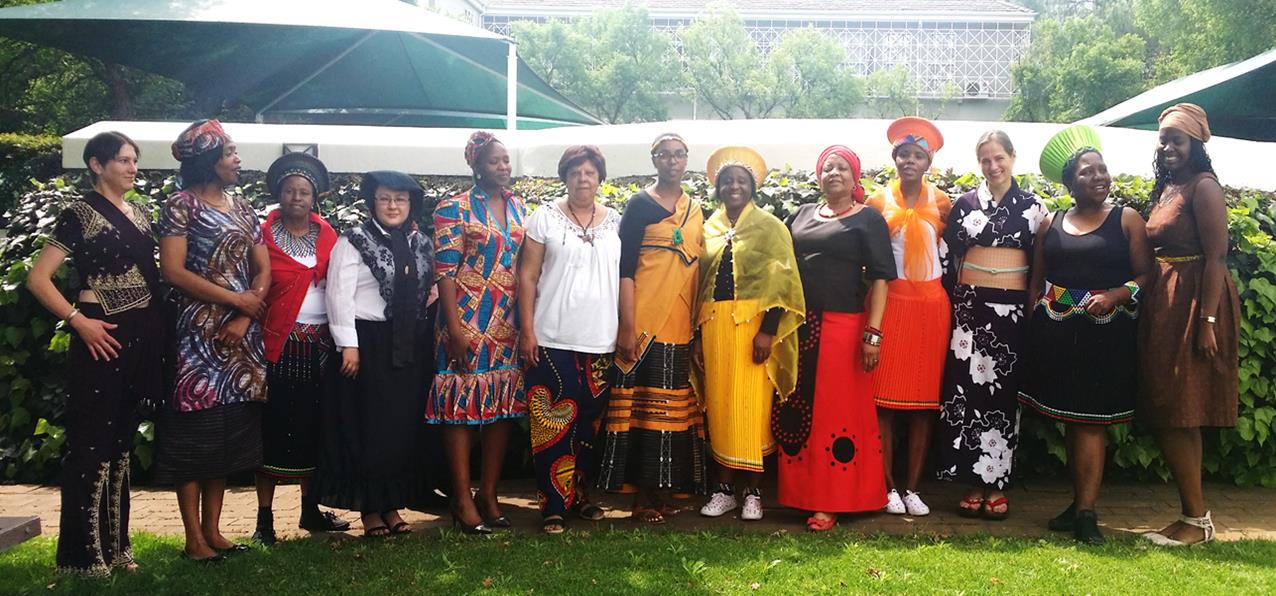 Australian High Commission staff in Pretoria celebrating diversity with traditional wear form across the world. credits:AHC, Pretoria
**************************************
31st August - 10 September 2015
International Media Visit—Namibia's participant Ms Estelle De Bruyn
The Australian High Commission in Pretoria hosted journalist Estelle De Bruyn on an International Media Visit (IMV) to Australia. The IMV participants had the opportunity to attend the Africa Down Under Mining Conference in Perth where they engaged with senior officials from Australia and Africa and met with Australia's Foreign Minister, Hon. Julie Bishop MP. They travelled to Melbourne and Sydney where they had meetings with government officials, business, health experts and academics and had the opportunity to learn about Australian lifestyle.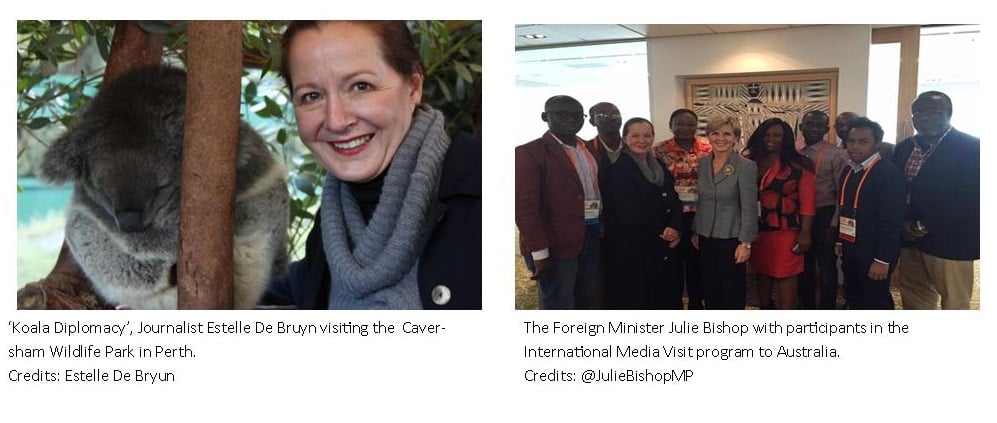 ***************************************
2nd-4th September 2015
Africa Down Under Conference in Perth
The 13th annual Africa Down Under (ADU) conference was held in Perth on 2-4 September 2015. The conference brings together Australian mining and mining services companies with African political leaders, senior officials and businesses. An estimated 1,100 people attended this year's conference, including nine ministers from Africa and the Secretary General of the Common Market for Eastern and Southern Africa (COMESA).
DFAT's delegation included Australian High Commissioners and Ambassadors accredited to Abuja, Accra, Addis Ababa, Harare, Nairobi and Pretoria. The WA State Office (WASO) assisted with coordination and logistics, including support for nine international media visitors.
The Australian High Commission in Pretoria facilitated logistics and support to the South African delegation led by the Hon. Godfrey Oliphant MP, Deputy Minister for Mineral Resources.
Addressing the conference, Foreign Minister Julie Bishop welcomed improvements in security, economic activity and governance in most African countries in recent years, and the emergence of a genuine middle class across the continent. To bolster Australia's relationship with Africa, she announced the creation of the new Advisory Group on Australia-Africa Relations (AGAAR) to help guide the Australian Government's thinking on Africa.
ADU continues to provide a valuable opportunity for the Australian Government to foster a diverse range of partnerships, building on the wide and deep contribution of Australian mining companies in Africa.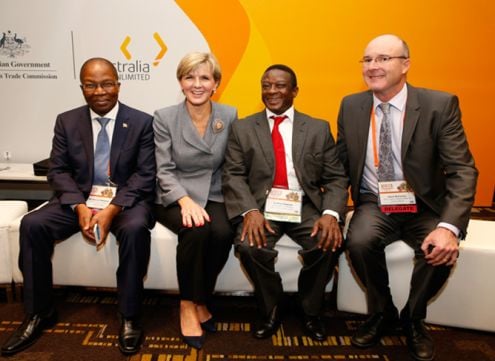 Foreign Minister Julie Bishop at ADU with (L to R) H.E. Mr Sibusisu Ndebele (South African High Commissioner to Australia),
Godfrey Oliphant (South African Deputy Minister for Mineral resources) and H.E. Adam McCarthy, Australia's High Commissioner to South Africa. Credit: Paydirt Media
******************************************
19th August 2015
Helping to Bring smiles to children's faces
High Commissioner Adam McCarthy and the team of staff responsible for the Direct Aid Program (DAP) team in South Africa had the rare privilege of observing life-changing cleft palate surgery first-hand during a visit to see DAP in action at the Dr George Mukhari Academic Hospital on 19 August.
The High Commission has been proud to partner with Smile Foundation to help bring smiles to children's faces over several years, with an additional focus this year on supporting essential surgery for children with tragic burns injuries.
A humbling experience for the team and an example of how DAP makes a real difference.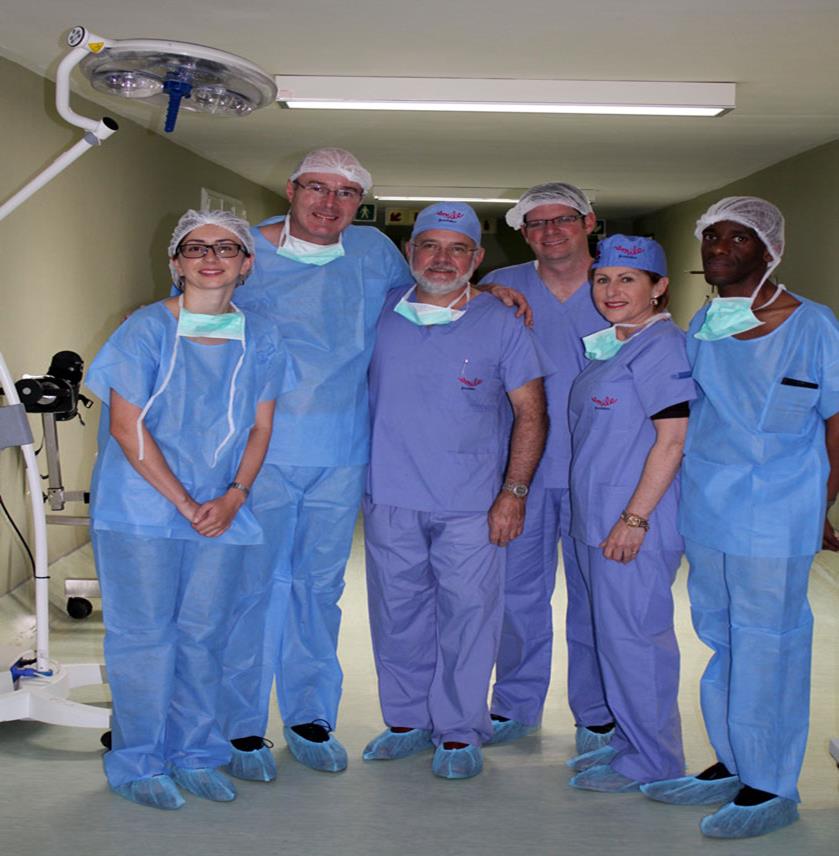 High Commissioner Adam McCarthy, Pamela Currie with members of the Smile Foundation Team at the George Mukhari Academic Hospital.
Credits: AHC, Pretoria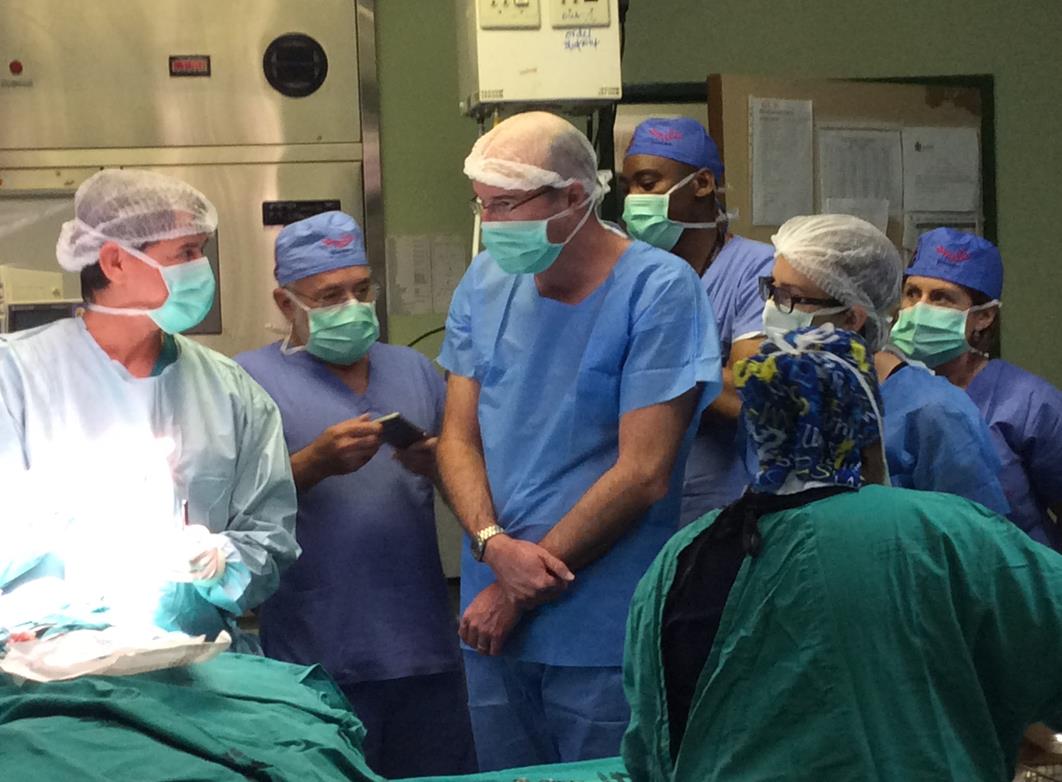 HE Mr Adam McCarthy and Pamela Currie with viewing the procedure. Credits: AHC, Pretoria
****************************************
6-10 July 2015
HMAS ANZAC docks in Cape Town
HMAS Anzac slipped into Cape Town's historic Victoria and Alfred Waterfront berth at the foot of the Table Mountain on Monday 6 July 2015. Commanding Officer Belinda Wood and High Commissioner Adam McCarthy co-hosted an official reception on the ship's flight deck under a starlit African night. The ship's company gave guided tours of the frigate.
While in Cape Town, the crew participated in an AFL South Africa 'Footy WILD' clinic with children in Khayelitsha Township and played in a 'scratch match' with local AFL South African teams. Belinda was also interviewed on major talkback radio station Talk 702/Cape Talk about women in leadership, the Indian Ocean Naval Symposium and her achievements in serving in the Royal Australian Navy. Later, in a solemn service, the ship's Executive Officer and the HMAS Anzac's Chaplain held a memorial service at the Commonwealth War Grave Commission Cemetery in Simon's Town where three RAN sailors are buried.
HMAS Anzac slipped her moorings on 10 July and set sail for Port Louis, Mauritius en route home.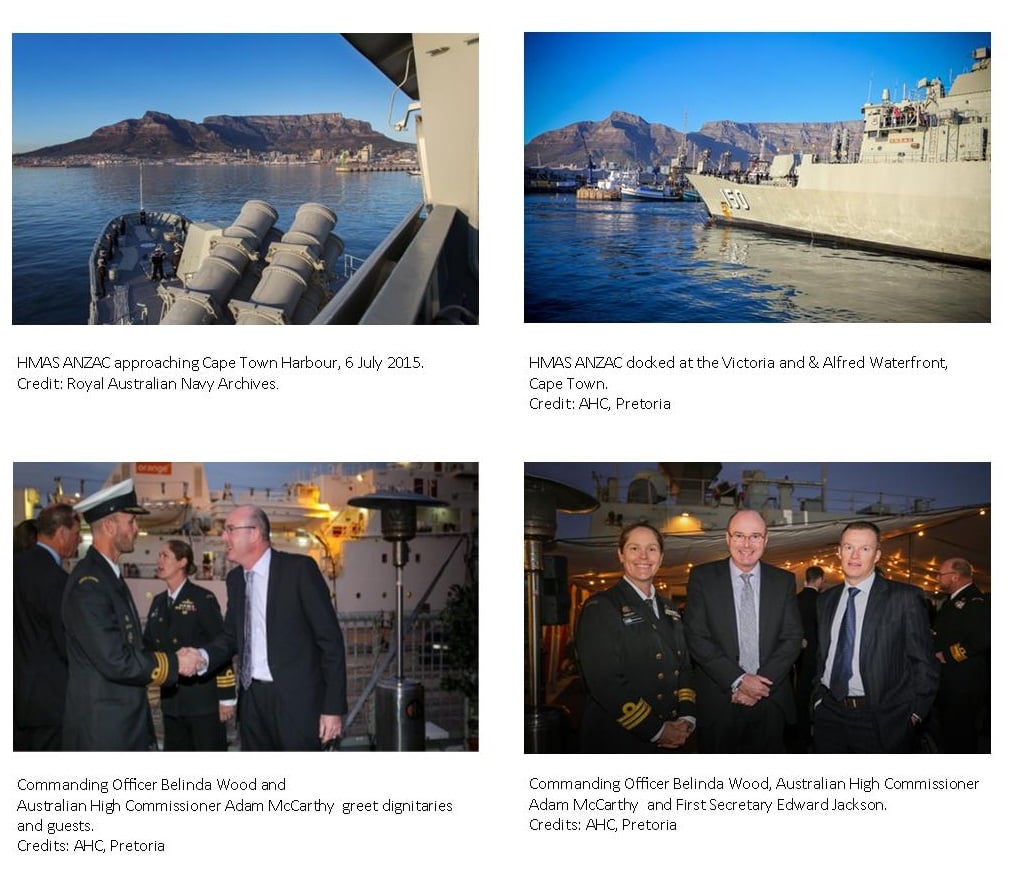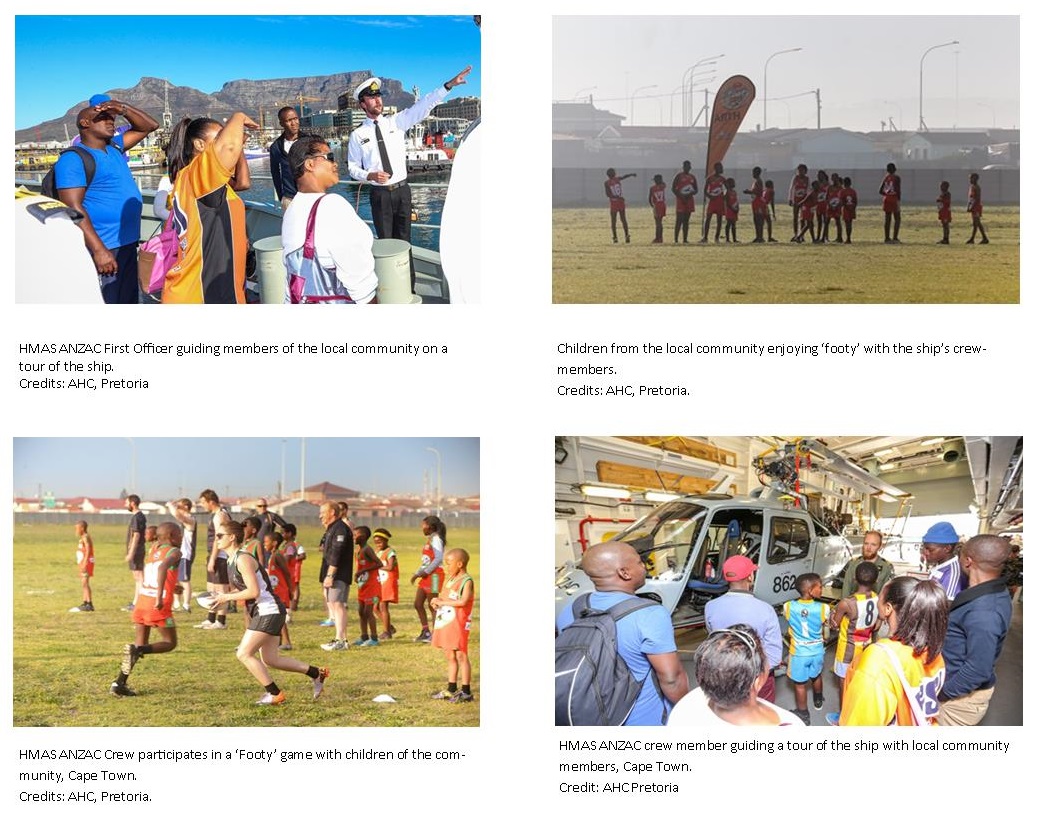 ***************************************
May—July 2015
Science Circus Africa 2015
Australia's Science Circus Africa went off with a bang in May and July 2015. The travelling science show reached an audience of more than 41,000, training 519 teachers across 5 southern African countries. The educational tour was led by Dr Graham Walker and Mr Joe Duggan of the ANU's Centre for the Public Awareness of Science and co-funded by the Direct Aid Program (DAP) and Questcon (with support from ANU).
The Science Circus Africa education road show comprised of interactive performances, workshops and training for local educators and communities with the aim of building interest in science and improving science education capacity in the region.