The Australian Government's aid program
The Australian Government's overseas aid program is a Federal Government funded program that reduces poverty in developing countries. The Department of Foreign Affairs and Trade (Australian aid) manages the program.
Australia's Development Assistance to Africa
For general information about Australia's development assistance to Africa, please click here.
Australia Awards, a cornerstone of the Australian Government's development assistance program for Africa, provide access to postgraduate education, training and professional development opportunities for suitably qualified Africans from eligible countries.
For information about the Australia Awards, including how to apply, please click here.
Small Grants - Direct Aid Program
The Direct Aid Program (DAP) is a small-grants scheme which aims to support non-profit organisations working in local communities on activities which support sustainable and equitable development. The Australian High Commission prioritises funding for projects which support:
1. Disability inclusiveness
2. Women's social and economic empowerment
3. Education and skills development
4. Human Rights
Good governance
Freedom of Expression
Rights of indigenous people
Strong national human rights institutions and capacity building
5. Sports for development
The Australian High Commission in Pretoria disburses DAP funding to projects in Angola, Botswana, Lesotho, Mozambique, Namibia, South Africa and Swaziland. The Australian High Commission will consider applications from community groups, international or Australian NGOs, and other civil society actors that are lawfully operating in any of these countries. We will also consider applications from academic institutions, research bodies, or other organisations engaged in development activities on a not-for-profit basis.
Please note the application process has changed this year and is described below. The first step is the completion of an Expression of Interest. These will be shortlisted by the DAP selection committee who will invite selected applicants to submit a comprehensive application. Applicants will be notified at each stage whether or not they have been successful.
While applicants can apply for a maximum of AU$50,000, most successful projects will receive between AU$25,000 to AU$40,000.
APPLICATION PROCESS
Please note the DAP application process has changed. In 2016-17, we will have one funding round a year.
Eligible organisations interested in receiving DAP funding should initially complete an Expression of Interest form online at https://dap.smartygrants.com.au/PETEOI2016-17 for submission by 8 July 2016. This form requires a brief description of the organisation and the project for which funding is being sought.
Following a shortlisting of EOIs, in August selected applicants will then be invited to complete a more comprehensive and detailed application. Note that organisations invited to submit a full DAP application will not be guaranteed funding as success will depend on the quality of the application as well as the funds available.
Indicative DAP Program Timeline (this may be subject to change):
- 6 June: DAP call for Expressions of Interest (EoIs)
- 8 July: Expression of Interest submission deadline
- August: DAP Selection Committee shortlists EoIs and invites a select group of organisations to submit full applications.
- 16 September: Final deadline for full applications
- Early October: Selection decisions finalised and all applicants notified of outcomes
- October: Grant agreements prepared and finalised
- November: Funds disbursed.
Important note: DAP program and application requirements can change from year-to-year. Please do not rely on information that does not appear on this website or that you did not receive directly from the High Commission.
If you have any further queries about DAP, please send an email to dap.pretoria@dfat.gov.au.
Australian Volunteers for International Development
The Australian Volunteers for International Development (AVID) program is an Australian Government initiative. Australian Volunteers International (AVI) is one of three delivery partners for the AVID program. AVI regularly seeks positions for a wide range of assignments, including organisational management and health positions. Volunteers are provided with airfares, accommodation and modest living allowances, together with extensive briefing and support. Airfares, accommodation, modest living allowances and extensive briefing and support are provided.
Learn more at www.dfat.gov.au/australianvolunteers
AVID Profile: Amanda Rowen, Communications Manager, Media Monitoring Africa
In November 2014, I arrived at Media Monitoring Africa (MMA), an NGO which focuses on the role of media in promoting human rights and strengthening democracy. MMA is the only independent media 'watchdog' in Africa and performs important functions such as monitoring the media coverage of elections, children and gender issues and ensuring that the rights of marginalised groups are both protected and represented by media.
My role is Communications Manager. I am responsible for building and developing MMA's capacity in both internal and external communications.
There's no such thing as a typical day here at MMA and I love that! So far I have been involved in communications guidance, training and support for projects such as:
Taking 60 children who work with us as child media monitors to present their demands on how media can do better on their children's coverage live on the Redi Thabli show on radio 702.
Live tweeting the above event - #ChildrenMatter trended all day in South Africa.
Working with Google South Africa and the Film and Publication Board on Web Rangers a pilot programme promoting online safety in schools.
Launching the 'Airing the laundry' report on gender discrimination in Zambian newsrooms. The third report in a series on gender discrimination in Southern Africa.
My assignment has also seen me being able to build both organisational and individual staff capacity in communications, social media and design. Some key achievements in this area have been:
Growing the @MediaMattersZA twitter from 12 000 followers to almost 17 000, with a steady increase of more than 100 new followers per week.
Developing and implementing a training programme to build staff capacity in design and web content management.
Project managing the development of a new MMA website, allowing us to present our content (research, analysis, policy submissions) in varied and interesting ways (podcasts, infographics, interactive tools etc).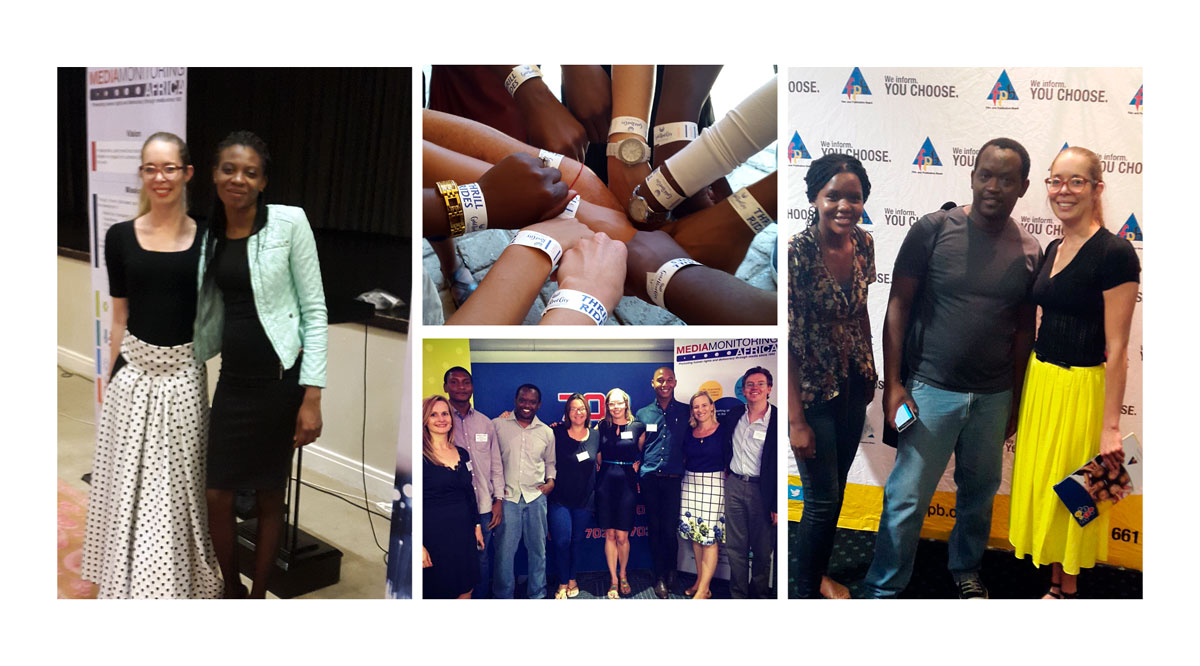 Collage image credit: Amanda Rowen